Laser Skin Tightening in NYC
If you're unhappy with your loose or wrinkled skin, our laser skin tightening treatments may be an excellent solution for you. By stimulating your body's natural healing processes, this treatment has the ability to non-surgically rejuvenate the face, arms, and other areas where loose, excess skin is present. At JUVA Skin & Laser Center, we offer many different options for laser skin tightening to ensure the absolute best results.
What is laser
skin tightening?
Laser skin tightening is a minimally invasive, non-surgical procedure that uses a laser to tighten skin by heating the collagen under the skin's surface. This process causes the skin to contract, thereby tightening it and helping it to appear more attractive and youthful. Laser skin tightening can be performed on the following areas:
Face
Neck
Abdomen
Arms
Legs
Buttocks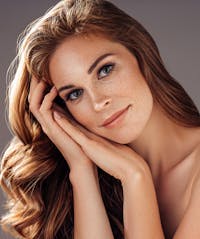 How laser skin
tightening works
There are many different types of laser skin tightening to achieve the results you want, in a way that fits your lifestyle. Young, elastic skin depends on high amounts of structural proteins such as collagen and elastin. These proteins help your skin resist permanent changes such as stretching, folding, or wrinkling.
As we age, our bodies produce less of these structural proteins, making our skin more prone to showing signs of age, such as fine lines and wrinkles. Laser skin tightening stimulates your body to produce more structural proteins — primarily collagen — to restore your skin's natural elasticity. This is done by creating a slight thermal injury in your skin that stimulates the skin's healing response. The result is firmer, tighter skin. This is part of what makes SmartLipo™ so unique: it not only removes fat, but also stimulates skin tightening at the same time to give better-looking results.
Ablative vs. non-ablative laser skin tightening
The first methods for laser skin tightening worked by actually removing part of the skin. This is called an ablative process. Similar to an exfoliation treatment, the goal of an ablative process is to remove the outer dead and dull layers of skin and to stimulate the skin that remains to heal itself. In the process, the skin produces more collagen that results in firmer, smoother skin. This is also called laser skin resurfacing, and is commonly used to treat age spots and sun damage in addition to loose skin. We also now have the option to use non-ablative skin tightening methods that work by targeting the inner layers of skin instead of removing the outer layers of skin.
At JUVA Skin & Laser Center, we use two radiofrequency devices for non-ablative skin tightening. Although not technically lasers, they are often described this way and achieve similar results. Using precisely controlled radiofrequency fields that can pass through skin, these devices can target the dermis — the deeper layer of skin where healing takes place — without removing the skin on the surface. By offering both ablative and non-ablative laser skin tightening, we are able to personalize your procedure to ensure that you get the results you're looking for — in a way that suits your specific lifestyle.
Skin tightening treatments in NYC from JUVA Skin & Laser Center
At JUVA Skin & Laser Center, we have several of the most advanced technologies for providing ablative and non-ablative laser skin tightening, but our laser technology is only part of what makes us a pioneering laser dermatology center. Our doctors and staff have extensive training and experience in this particular area. Laser procedures are one of our top services, and our judgment in recommending the right type of laser and methods is what sets us apart.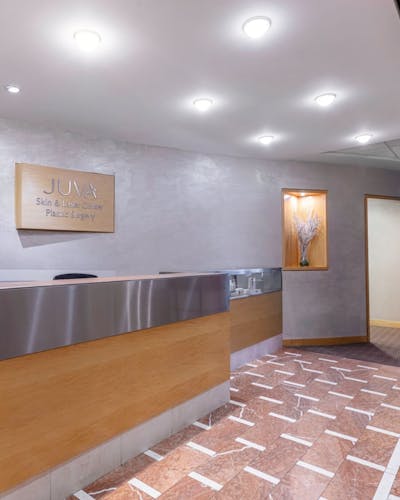 Our medical director, Dr. Bruce Katz, is a board-certified dermatologist who is world-renowned for his innovations in the field of cosmetic procedures. He regularly lectures at medical symposia all over the world, and is frequently seen or read in media outlets such as the Today show, Dr. Oz, Good Morning America, The View, CNN, The Doctors, Cosmopolitan, and Dermatology Times. If you're interested in laser skin tightening, please contact us today to schedule your scar treatment consultation with us. We proudly serve patients all throughout NYC and the world from our Manhattan and Woodside locations.