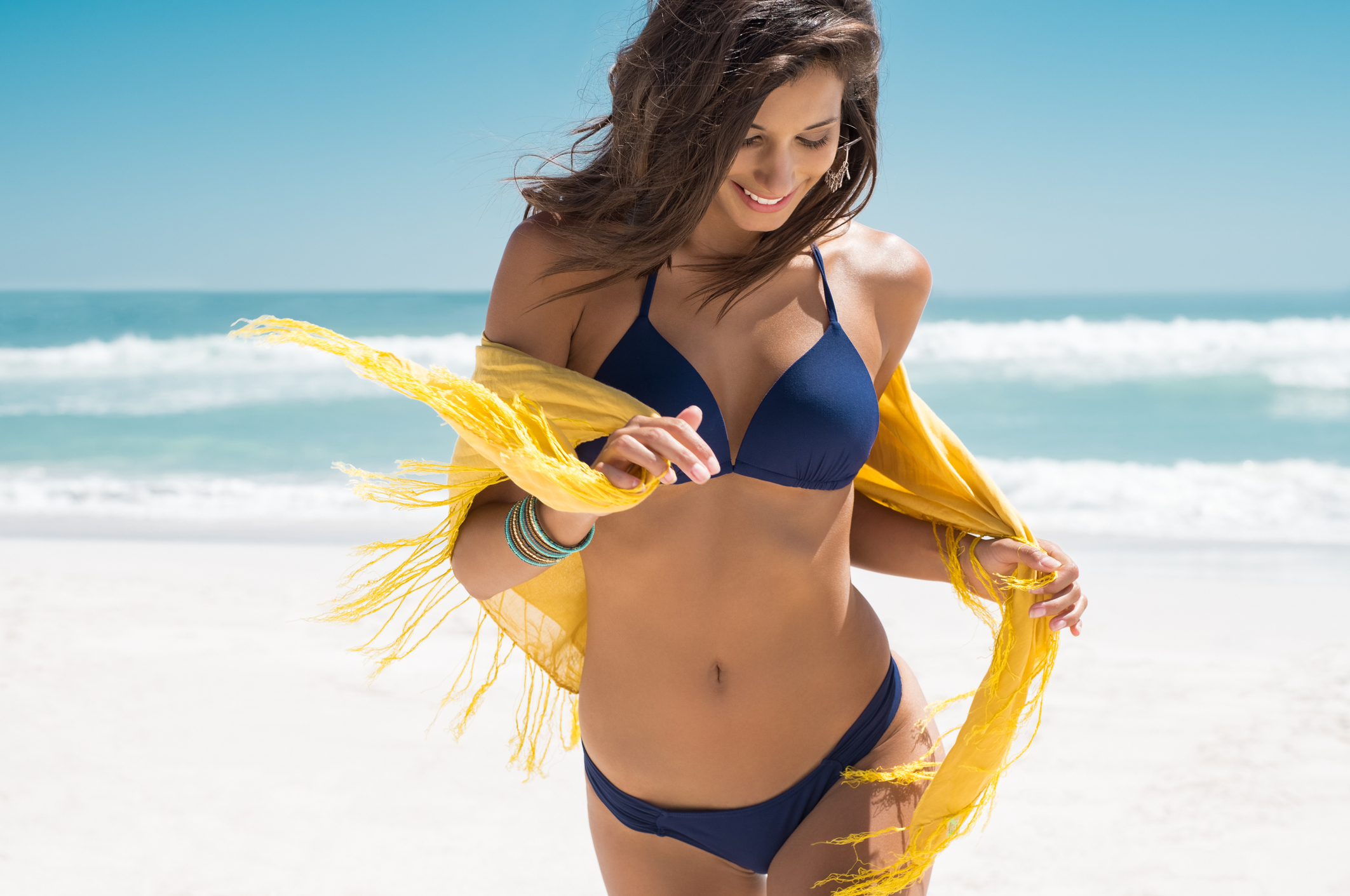 Achieving Your Beach Body With Body Contouring
If you've been working on your beach body with a healthy diet and exercise, but you're still dealing with stubborn fat pockets, cellulite, or loose skin, you're not alone. We offer a variety of body contouring procedures, ranging from non-invasive to surgical, to help you achieve the smooth, sculpted, tight physique you'll feel confident in when you're wearing your swimsuit.
Body contouring treatments at JUVA Skin and Laser Center
JUVA offers the following options, including surgical, minimally-invasive, and non-invasive treatments, to help you achieve your ideal physique:
This surgical procedure requires very small incisions through which a cannula is inserted. This cannula is used to perform a suction technique that contours and removes small amounts of unwanted fat from specific areas of the body. Targeted areas often include the abdomen and flanks, thighs, buttocks, arms, neck, and other areas.
SmartLipo is a surgical procedure that achieves a similar result to liposuction but uses laser heat to liquefy the fat. The liquified fat is easier to remove with the cannula, which causes less bruising during the recovery period.
The minimally-invasive BodyTite treatment contours your figure by melting fat and tightening the skin in one procedure. BodyTite relies on RFAL (Radio-Frequency Assisted Lipolysis) to emit radiofrequency waves into the deeper tissues of your body, dissolving unwanted fat and triggering collagen production to tighten and improve your skin.
SculpSure is a minimally-invasive procedure that uses a laser to melt and eliminate body fat, reducing unwanted fatty tissue by as much as 25 percent with one treatment.
QWO is the only FDA-approved injectable that treats cellulite. It can be used on the buttocks to help dissolve the fibrous cords under the skin that pull downward and cause dimples. At the same time, QWO triggers the growth of collagen, which strengthens, tightens, and improves the skin.
Evolve is a trio of non-invasive treatments that sculpt and contour your body by reducing fat, tightening the skin, and toning muscle. EVOLVE uses radiofrequency energy to melt fat and tighten the skin, and electromagnetic technology stimulates the muscles and tones the physique. EVOLVE can be used on a range of areas of the body. You can choose from the options available or experience the benefits of all of them: Evolve Trim, Evolve Tite, and Evolve Tone.
This innovative, non-invasive device simultaneously and painlessly builds muscle and burns fat. Once the device is placed on the targeted area, it emits both radiofrequency and high intensity electromagnetic energies. The radiofrequency heating destroys fat cells, which the body naturally disposes of, while the high intensity electromagnetic energy stimulates muscle growth to achieve a toned, lean appearance.
Body contouring at JUVA Skin and Laser Center
At JUVA Skin and Laser Center, our customized body contouring is designed to suit your exact needs. Our body treatments are performed or overseen by our medical director, Dr. Bruce Katz, an authority on all things aesthetic and a leader in the field. You'll have a chance to review your options and make an educated choice about which body contouring treatments are right for you during your consultation at our welcoming office locations. Call today for a consultation.