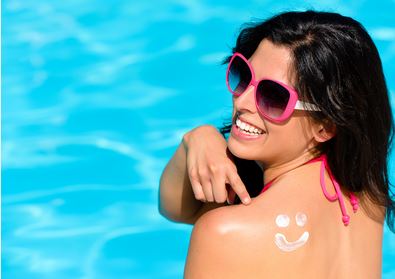 Beat the Summer Heat
Summer has finally knocked on our doors and it's time to answer it! We're the first to admit – we're summer junkies! We love lounging by the pool, having rooftop margaritas and beachy weekends. Welcoming the sun also means accepting sweaty armpits, oily faces and frizzy tames. It's time to spruce up your summer beauty routine. Beat the heat with these five summer tips.
Sunscreen: You can't leave home without it and you can't get enough of it. Sunscreen is crucial all year long but vital in the summer. Be sure to pick a broad-spectrum sunscreen that protects against UV-A and UV-B rays. For those with oily skin or acne prone try to choose a water based one. Pro-Tip: Always slather sunscreen before heading out especially at the pool or beach. It takes at least 15 minutes for ingredients in chemical sunscreens to penetrate the skin and become completely active.
Primer: Using a primer before makeup application helps for a creamier finish. We love this one by Jane Iredale. It's designed to restore and prepare the surface of your skin to help makeup go on smoother and last longer.
Toner: During the hotter months, a toner can come in handy to combat breakouts caused from summer sweat, sunblock and dirt clogging the pores. In addition to restoring your skin's pH balance, they also help tighten and cleanse the pores. Our top pick includes the BeautyPrep Face Toner by Jane Iredale.
Blotting Wipes: No one likes melted makeup especially mascara runs. It's not a pretty picture especially for your co-workers. Touch up anytime with the convenience of these little saving papers. They are designed to remove shine and dirt from the skin. Pro-Tip: Always use a blotting wipe before makeup application to remove excess oils.
Hydrate: It's easy to swap water for Rosé during the summer days. The heat makes us perspire more and lose moisture, so it is very important to re-hydrate the body and skin. Try carrying a water bottle with you to stay hydrated all day. Pro-Tip: For an added boost, enrich your daily diet with water-rich foods such as berries, apples and watermelons.