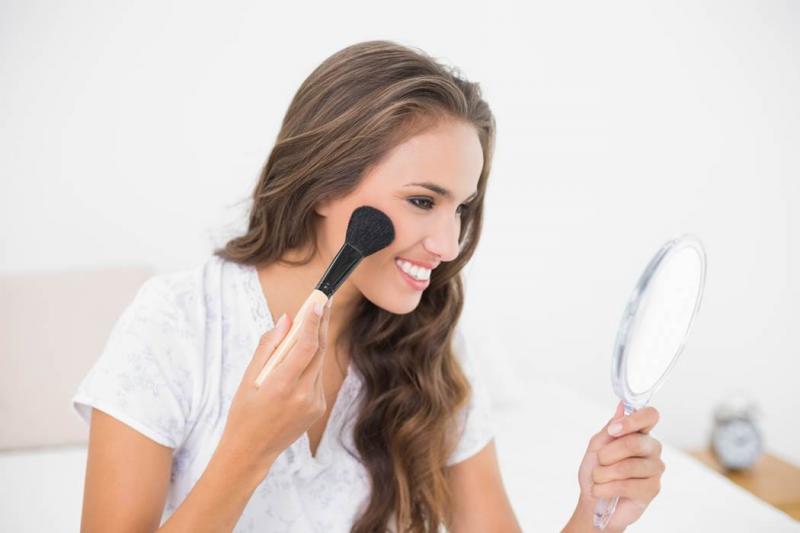 Summer is in bloom and if you are looking for a makeup line that will give you that summertime glow you must try Jane Iredale makeup available at JUVA Skin & Laser Center. This makeup line allows your skin to breathe and doesn't clog your pores. It helps soothe and nourish your skin. Key ingredients in these products help prevent and fully cover your breakouts and blemishes. Unlike other foundations and makeup lines, Jane Iredale's makeup goes on smooth and it's practically weightless. Their makeup gives full coverage without the heavy or cakey feeling that some foundations have. It's important to not feel like one is wearing make-up, especially when it is extremely hot outside.
My skin is very sensitive especially in the summer so I live and breathe Jane Iredale during these hot summer months. I carry ALL of the essentials in my makeup bag and I'm ready to share it with our JUVA family and friends!
Foundation: I use the Pure-pressed mineral foundation in Latte. It glides on my skin and stays on all day. It has SPF 20 so it even protects my skin from the sun which is great.
Concealer: The Circle/Delete #3 concealer is perfect for hiding my dark circles and helps brighten up my eyes.
Concealer for blemishes: To help cover my blemishes I use the Disappear concealer in medium/dark. It is an oil-free concealer and contains green tea extract and vitamin C which helps protect my skin.
Blush: My favorite blush color is Mocha. It just adds a beautiful summery-glow to my cheeks which I love.
Eyebrows: I also use the Jane Iredale Bitty Brow kit in Brunette to help fill in my brows and it's so easy to use and leaves my eyebrows looking natural.
Lip Balm: Whenever I am at the beach or pool I love bringing my Sheer Lip Drink along to help moisturize and repair my lips. It goes on smooth and has SPF 15.
Eye-shadow: I'm not really fond of the bright colored eye-shadows for my eyes so I simply use Canvas Lid Primer. I use it as a standalone eye shadow because it has a great look, it's simple and has a little shimmer to it, and it never creases even if I am outdoors in the heat.
When I hear patients or friends complain about their makeup being too cakey or heavy I always recommend Jane Iredale. For those who complain that their makeup irritates their skin and causes them to breakout I recommend Jane Iredale. I have been using the Jane Iredale makeup line for years. I truly believe it stands above all other makeup lines on the market. If you're looking for a natural finish to your everyday look or maybe just a new foundation for the summer, you should definitely try Jane Iredale. You will not be disappointed!
JUVA Skin & Laser Center sells the Jane Iredale makeup line. Please feel free to give us a call and speak to our makeup specialist for any questions. You can stop by our New York City location for a makeup trial. Call today! 866-550-3166.
Julissa is the manager of JUVA's Woodside location. She has been a team member of JUVA Skin & Laser Center for 10 years and has been using Jane Iredale for 6 years.