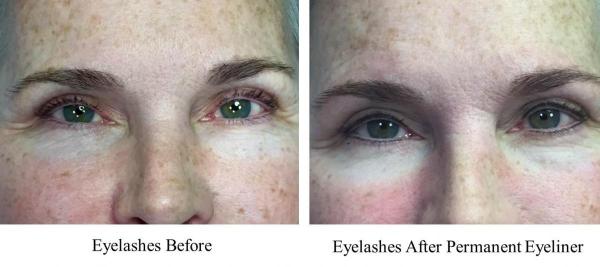 The Eyes Say It All
Let your eyes say it all for you! With permanent eyeliner and permanent eyelash enhancement, you can look beautiful 24/7 with freedom from eye makeup. Do you want thicker and fuller eyelashes? A permanent eyelash enhancement will give you the natural look of beautiful luxurious eyelashes.

Permanent eyeliner is a must for women who are allergic to conventional makeup, wear contact lenses, have poor eyesight or shaky hands!
There are varied effects such as; a soft "smudgy" look, a really defined dramatic look or an "eyelash enhancement", which mimics thousands of single lashes while creating a full and youthful lash line.
Lash enhancement and permanent eyeliner are a favorite among people on-the-go, allergy sufferers, and those with contact lens sensitivities. No running or smearing from regular eyeliners ever again!
Eyelash Enhancement: This method is for people who want an extremely natural look. Pigment is tattooed only in the skin at the base of eyelashes in-between their rows. No obvious line is drawn beyond the last row of lashes. This causes the eyelash base to appear darker and fuller and frames the eye without the look of having eyeliner. Men choose this procedure to add definition to their eyes without looking like they are wearing makeup.
Full Eyeliner (Top, Bottom, or Both): This method creates a line above the last row of eyelashes (on upper liner) or below the last row (on lower liner) to add depth to the eyes. The width of the line can be thin, medium, or thick.
With over 8.5 years of expert training, Susan Watson-Neimy RN, BSN specializes in the art of permanent makeup at JUVA Skin & Laser Center. Susan has an understanding of facial balance and an artist's eye for form and color to create the ideal frame for each individual's face. At JUVA Skin & Laser, you'll get perfectly placed and well-defined eyeliner or lash enhancement that frames and opens your eyes and makes you look younger and naturally beautiful.
If you want a natural-looking permanent makeup solution, we would love to talk to you! Call us today for a consultation appointment! Call (212) 688-5882.
~Susan Watson-Neimy, RN, BSN, CANS
Certified Aesthetic Nurse Specialist

Susan Watson-Neimy, RN, BSN is a Certified Aesthetic Nurse Specialist (CANS), credentialed by the American Society of Plastic Surgery Nurses (ASAPS). She has become a master aesthetic injector, combining her extensive technical training with a unique appreciation and understanding for facial composition and anatomy.
A graduate of The Medical University of South Carolina in Charleston, SC, Susan spent the first part of her career in Emergency Medicine, highly regarded for her passion and commitment to improving patient lives. She expanded her training in the aesthetic field and has honed her technical skills as an expert injector over the last eight years, receiving her training from the leading innovators/experts in the field.
Since 2007, Susan has practiced solely as a cosmetic nurse specialist and has become a "gift" among her loyal patients as an expert in achieving the most natural, "me-but better", non-surgical treatment with exceptional results. In addition, she is a widely respected nurse educator and speaker on aesthetic procedures, sought-out across the Nation to train various medical professionals.
Susan is beloved by her clients for her collaborative approach in achieving their desired results. She sees her work as much an art as it is a science. She is passionate about her patients and proves that technical expertise combined with artistry is the perfect recipe for beautiful transformations.