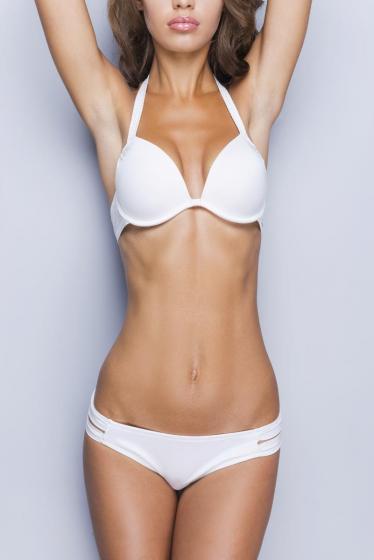 You've exhausted yourself trying to eat healthy and exercise in order to fight the bulge and yet, those stubborn areas of fat haven't even moved an inch. So, you've made the decision that you're going to seek help from a dermatologist in order to remove those last few areas. Deciding to get professional help is just the first step. With so many treatment options available in the market, it's quite difficult to choose which one will give you the best results and help you reach your desired goal.
At JUVA Skin & Laser Center, our dermatologist, Dr. Bruce Katz, is a proponent of the non-invasive fat loss option, SculpSure™. While you have heard a lot of about SculpSure™, you may also be curious about CoolSculpting®; after all, it's being advertised on nearly every other radio commercial you hear. So, which do you choose and why?
Here are five reasons to choose SculpSure™ over CoolSculpting®:
1. SculpSure™ is more accurate at targeting fat cells -- while CoolSculpting® involves freezing cells beneath your skin's surface, SculpSure™ allows for a more targeted attack on those fat cells. SculpSure™ heats the fat cells and your body naturally removes them, so the whole process is quicker as well.
2. Faster treatment time -- CoolSculpting® often requires hours for each session and more than one treatment in order to be effective, while SculpSure™ is completed in only one 25-minute session.
3. Why treat only one area at a time? -- A huge limitation of CoolSculpting® is that you can only treat one stubborn area of fat at a time. With SculpSure®, our dermatologist can treat up to 4 areas at a time.
4. Younger-looking skin from SculpSure™ -- with CoolSculpting®, the device doesn't heat your cells in any way, so it doesn't cause any collagen or elastin production. Collagen and elastin are the two main building blocks of healthy, youthful skin and SculpSure™ heats your cells, thereby causing the production of both of them. This means that not only will you lose fat with SculpSure™, but you will also tighten your exterior skin.
5. Treatment from an expert -- Dr. Katz was involved in the innovation of SculpSure™ and was also 1 of only 2 sites in the United States that performed clinical trials on the product. Therefore, you can place your trust in our dermatologist knowing that he has more experience in this procedure than nearly anyone else in the country.
Love How You Look and Contact Us Today!
When you're interested in scheduling a fat loss appointment, the best treatment choice is clear: SculpSure™ because it is far superior to CoolSculpting® in many ways. You'll experience fat loss faster, in more areas, and tighten your skin in those areas at the same time. Don't regret choosing the wrong treatment and contact us to schedule your SculpSure™ treatments today. We proudly serve patients in New York City, Manhattan, and worldwide. Please call us today at (212) 688-5882.