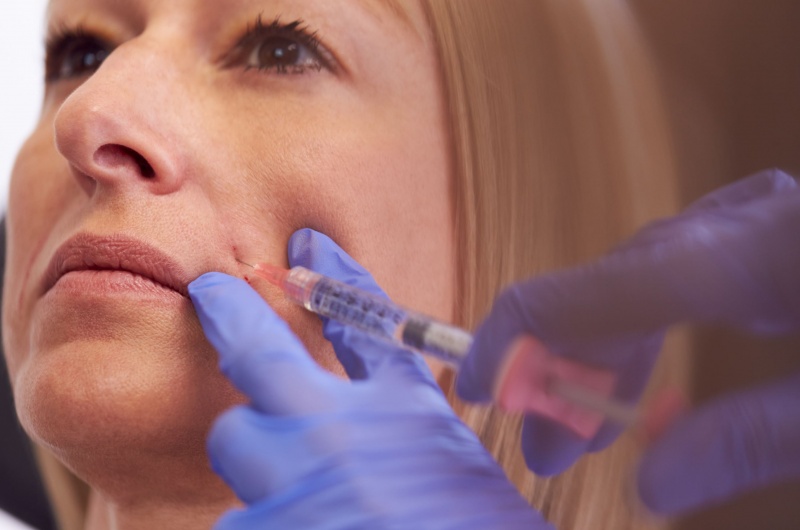 Radiesse: The Filler That Removes 10 Years of Aging
Looking to improve the appearance of aging on your face but don't have time for a facelift? With Radiesse you'll look younger and injections are fast and simple--a perfect lunch break procedure. Check out our most commonly asked Radiesse questions and answers below.
Frequently Asked Questions
What is Radiesse?
Radiesse is a dermal filler known for its collagen stimulator capabilities. It adds volume to the treatment area and encouragea collagen production. Your body eventually absorbs and eliminates the product, leaving you with new collagen for long-term cosmetic improvement.
How does Radiesse work?
Radiesse works to lift and define the targeted area. The filler does a great job at smoothing unwanted folds and wrinkles.
What else can Radiesse be used for?
Many patients use also use Radiesse to reduce the appearance of veins and tendons on the back of the hands. Radiesse is also used for skin tightening by hyper-diluting the product with lidocaine or saline, known as biostimulation. This approach fosters the collagen-stimulating properties of Radiesse to improve overall skin quality. Radiesse is also an effective way tto treat cellulite. Hyper-dilute Radiesse can be used in many treatment areas, including the face, neck, décolletage, upper arms, elbows, abdomen, buttocks, thighs, and knees.
Is Radiesse safe?
Radiesse is the first dermal filler to receive FDA approval for both the face and hands.
Am I a good candidate for Radiesse?
The majoritiy of people are great candidates for Radiesse. If you're looking for a quick, non-surgical treatment that can improve concerns such as aging and volume loss.
Category: Fillers