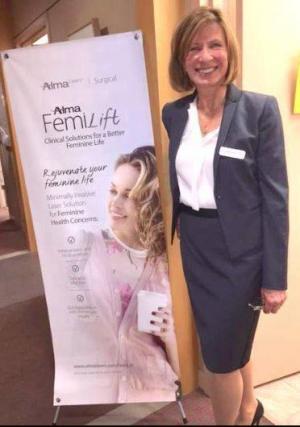 By Marianne Woody, a certified Nurse Practitioner at JUVA
One out of three women over the age of 45 will have a pelvic health concern within their lifetime and after menopause over 50% of women may have symptoms (according to web MD). Women may not report symptoms because they are self-treating, feel the symptoms are not important enough, or are embarrassed. Menopause, childbirth, lifestyle, and a variety of other reasons lead to vaginal irregularities.
Vaginal atrophy is a common and underreported condition due to a woman's decline in estrogen production. Vaginal symptoms include dryness, irritation, soreness, and painful sex with urinary frequency, urgency, and urinary incontinence. Current treatment options of pelvic surgery, creams, oral medication and Kegel exercise have mixed results.
One new option is "Femi-lift" - a fractional CO2 laser performed in three, short, 5- to 10-minute laser procedures spaced 4 weeks apart. Some participants show improvement after one treatment; others after two or three completed procedures. No anesthesia or pain medication is required during the office-based procedure and there is no downtime.
Benefits of Femilift include:
• Vaginal tightening
• Increased vaginal lubrication
• Improvement in stress urinary incontinence
• More intense orgasms (according to a patient self-report)
Millions of women suffer from the same condition due to childbirth, menopause, lifestyle or a variety of other reasons leading to vaginal irregularities. Femi lift laser is a new treatment option available at JUVA!
Marianne, a certified Nurse Practitioner specializing in medical dermatology, comes to JUVA with a wealth of experience as both a Registered Nurse and Nurse Practitioner. She has spent more than 30 years in the medical profession working in hospitals, corporations, and with academic institutions as a researcher and educator. For the past six years, Marianne has developed a special interest in early skin cancer detection using a dermatoscope as well as all aspects of dermatology. Her past experience includes specialization in internal medicine, emergency medicine, and employee health. Marianne holds a BS degree in Nursing and a MSN as a Family Nurse Practitioner from the University of Pittsburgh.
To schedule a personal consultation with Marianne Woody please call our center today 212-688-5882