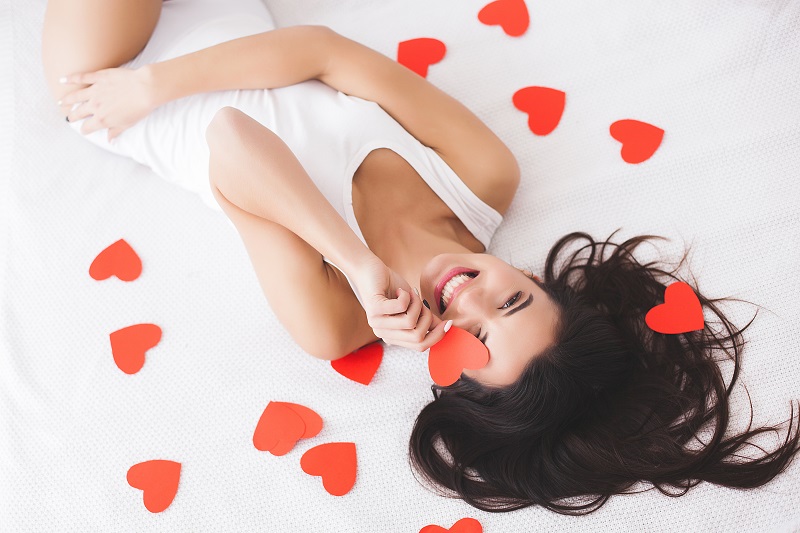 This Valentine's Day, Show Yourself Some Love!
Authored by:

Marianne Woody, N.P.

As February 14th rolls, around, your intimate health and wellness may be on your mind. This is especially true if you are one of the many women who suffer from aesthetic and functional vaginal issues. Vaginal looseness, dryness, loss of sensation, urinary incontinence, and dissatisfaction with the appearance of the vaginal area are some of the concerns we hear every day.

Now is the perfect time to reclaim your body and your confidence by taking advantage of our effective and non-surgical vaginal rejuvenation treatments. This Valentine's day, show yourself some love by scheduling your visit to JUVA Skin & Laser Center.
Banish Urinary Incontinence with Emsella
BTL's non-invasive device called Emsella can treat urinary incontinence. Urinary incontinence is common after having children or going through menopause. These factors tend to weaken your pelvic floor muscles, making it hard to control your bladder.
Many women try to control their urinary incontinence by strengthening their muscles with kegel exercises. However, kegels are tedious, and they may not provide the relief that you want.
The Emsella device is unique because you remain fully clothed during your treatment. As you sit on the Emsella chair, safe electromagnetic energy will stimulate kegel-like muscle exercises.
The treatment is comfortable, and some women even find that the sensations feel pleasant. Feel free to multitask during your treatment as long as it doesn't interfere with sitting. You won't need any recovery time after your session.
Tighten Loose Skin with ThermiVa
Since 2016, over 103,000 ThermiVa treatments have been performed worldwide. ThermiVa is a unique treatment that uses radiofrequency energy to create new collagen in the vaginal area. Collagen is naturally present in the body, but its production diminishes over time.
The comfortable ThermiVa hand piece gently heats your internal vaginal tissue during a session. This heat is what encourages your natural production of collagen. The treatment is delivered at your comfort level, and there is no need for anesthesia.
The average ThermiVa treatment takes roughly 30 minutes. After your session, you can resume your normal activities because this treatment doesn't require any downtime.
Treat Internal and External Tissue with Femme 360
Like ThermiVa, Femme 360 utilizes radiofrequency energy to address your vaginal concerns. However, Femme 360 is unique because it can be used internally and externally.
You shouldn't experience discomfort during a Femme 360 session, just a warming sensation. Typically, it takes approximately eight minutes to treat the internal vaginal canal.
The external treatment time can vary from roughly 3-15 minutes. Your external treatment will be tailored to address your unique cosmetic concerns.
For the best results, most women need three treatment sessions spaced roughly one week apart. A yearly touch-up session may help improve the longevity of your results.
It's Time to Start Talking About Your Feminine Health
This February, do something special for yourself. Take the time to discuss your candidacy for non-invasive, non-surgical vaginal rejuvenation with our trained practitioners at JUVA.
Call (212) 688-5882 or fill out our contact form to schedule your individualized consultation. We gladly welcome patients from NYC, Woodside, and around the world.
Category: Feminine Rejuvenation