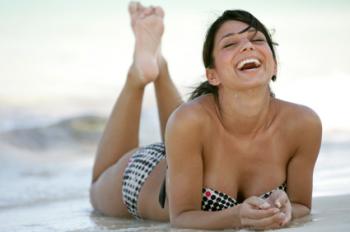 If you have excess fat on your body, you may be interested in a fat loss procedure. However, you may want to avoid surgery and, therefore, are considering a minimally- or non-invasive procedure like CoolSculpting®. In the CoolSculpting® procedure, a device is used to freeze your excess fat cells that are then naturally removed by your body. CoolSculpting® procedures can only be performed on one area at a time and you will usually need 2-4 treatments per area for your desired results.
SculpSure™ Instead of CoolSculpting®
At JUVA Skin & Laser Center, we recommend SculpSure™ over CoolSculpting® for non-invasive fat reduction. SculpSure™ treatments are done by aiming a laser system at your fatty areas. The laser heats the fat and essentially melts it so your body can remove it naturally. As opposed to CoolSculpting®, SculpSure™ treatments can be performed on 4 areas at a time and only one 25-minute treatment is needed to achieve your desired results.
Our dermatologist, Dr. Bruce Katz, was involved in the clinical testing for SculpSure® and hosted one of the two locations in the U.S. that held the clinical trials.
Schedule Your SculpSure™ Appointment Today
To be free from excess fat, contact us today. Our dermatologist can help you determine if SculpSure™ is right for you and give you a realistic idea of the results you can expect. In as little as a 25-minute treatment, you can be well on your way to loving the way you look. Contact us today to schedule your consultation. You can fill out the form on this page or call us at (212) 688-5882. We are located in Manhattan, New York and proudly treat patients from anywhere in the nation.