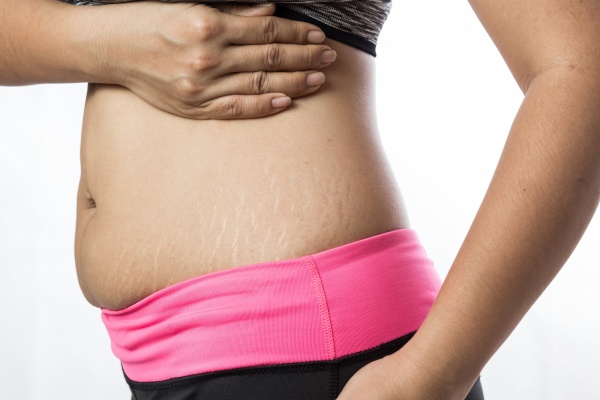 Authored by:

Dr. Bruce Katz

Stretch marks are a common skin condition impacting many people, especially women. These long, narrow streaks often appear in areas such as the breasts, abdomen, hips, thighs and buttocks. For many people, stretch marks can be a source of self-consciousness.

Stretch marks typically develop when your body experiences rapid growth. When this occurs, your skin may struggle to stretch enough to keep up with the rate of growth your body has experienced.

There are three layers in your skin. Stretch marks develop in the middle layer, called the dermis. The connective tissue in the dermis has the capacity to slowly stretch in order to accommodate a normal rate of growth. However, when you experience rapid growth, this connective tissue may become stretched more than can be accommodated by your skin's elasticity. As a result, your dermis may tear, enabling the deeper layers of skin to show through. This produces the appearance of a stretch mark.

Common causes of stretch marks include:
Pregnancy – Many pregnant women develop stretch marks due to their skin stretching rapidly in order to accommodate a growing baby.

Puberty – It's common to experience rapid growth spurts during puberty which can cause your skin to develop stretch marks.

Rapid weight gain – If you gain a significant amount of weight in a short period of time, it can cause your skin to stretch.

Medical conditions – Certain medical disorders such as Marfan syndrome, Cushing's syndrome and Ehlers-Danlos syndrome can result in the development of stretch marks.

Corticosteriod use – The use of corticosteroid lotions, creams and pills for an extended period of time can cause a reduction in your skin's collagen levels. This can negatively impact your skin's ability to stretch.

Bodybuilding – Bodybuilding can result in rapid muscle growth, and your skin may not be able to stretch enough to accommodate this growth.
Stretch Mark Removal Treatments
JUVA Skin & Laser Center offers a variety of treatments to improve the appearance of stretch marks. We use the most advanced stretch mark removal technology to ensure the best possible results.
Depending on your unique needs, our cosmetic dermatologists may recommend one of the following stretch mark removal treatments:
Affirm CO2 Laser – This laser treatment removes small amounts of damaged skin and stimulates collagen production to improve the appearance of stretch marks in the treated region.

Morpheus8 Microneedling – This radiofrequency microneedling treatment creates a series of tiny injuries in your skin to facilitate increased collagen and elastin production. The radiofrequency energy also provides skin tightening benefits.

Pulsed Dye Laser – This treatment option is particularly effective when stretch marks have a red color. The laser energy will facilitate the breakup and absorption of red blood vessels in the stretch marks, restoring a more natural skin tone.
Contact our NYC Cosmetic Dermatologists
Please contact JUVA Skin & Laser Center using the form on this page to schedule a stretch mark removal consultation. Call 212-688-5882 for an appointment at our Manhattan office or 718-729-8512 for an appointment at our Woodside office. We serve patients in NYC and nationwide.
Category: Laser Treatments