Body Contouring breakthroughs future directions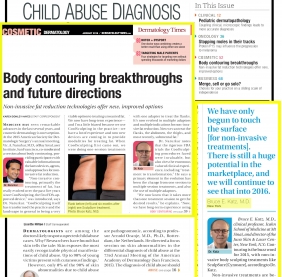 Non-invasive fat reduction technologies offer new, improved options
Medicine has seen remarkable advances in the last several years, and cosmetic dermatology is no exception. Read more about how SculpSure has been an addition to this treatment on digital page 48 (print pg 52) in Dermatology Times.
Derms reflect on industry innovations.
Dr. Bruce E. Katz relfects on what's to come for non-invasive treatments in body sculpting. Read more about it on the digital page 72 (print pg 82) in Dermatology Times.
/sites/www.juvaskin.com/files/backup_migrate/Dermatology%20Times%20Jan%202016%20Issue_dt0116_ezine.pdf