The Editor of XOVain.com talks about her positive experience after the Aphrodite Lip Treatment at JUVA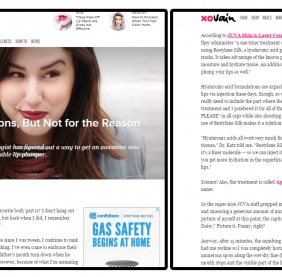 "I've thought about getting lip injections for a few years, not because I think there's anything wrong with my lips as they are, but because I do like a fuller look. The techniques and materials have come a long way (did y'all know people tried paraffin lip injections in the early 1900s?), and my friends who have done it have been really happy with the results and wish they'd last longer. I love my lips, so injections would essentially just give me more to love.
The only thing don't like about my lips is that they tend to be intensely dry. I mean, is there anyonewhose default lip-skin condition is hydrated?"...