Khloe K recently opened up about her filler nightmare. Dr. Bruce Katz, explains to HollywoodLife.com, how to get natural looking results and the best fillers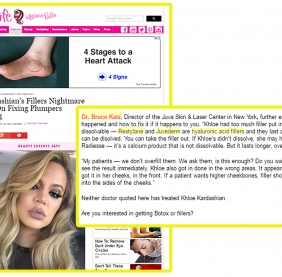 Khloe Kardashian recently admitted her face was completely frozen and 'f**kd' after getting fillers — see how you can avoid her plastic surgery nightmare below!
We love that Khloe Kardashian, 31, is so open about her beauty experiments. She revealed that she got fillers — and it went very, very wrong — on a March 23 episode of Kocktails With Khloe! See what experts say about reversing the procedure below!
Dr. Bruce Katz, explains how to get natural looking results and the best fillers to use, like the one used for the Aphrodite Lip Treatment