KUWK: Khloe Kardashian's Huge Lips Spark Controversy – Dr. Katz Explain Her Possible Procedures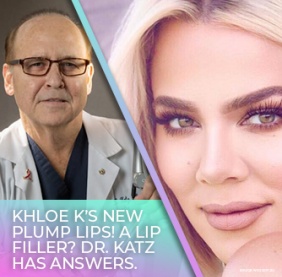 By: Nick Markus
Khloe Kardashian was slammed yesterday for getting her lips too plump by using fillers again. Whether it was the case or not, people were just shocked to see the size of her pout since it appeared to be much larger than usual in a post from yesterday.
The pics she posted featured the Keeping Up with the Kardashians star looking almost unrecognizable.
The post soon gathered a lot of comments, many of them negative but Khloe proceeded to turn off the comment function on the post.
What's certain however, is that social media could not stop talking about her much bigger lips.
Now, two plastic surgeons analyzed the images for HollywoodLife and shared their professional opinions.
Here's what Dr. Bruce E. Katz and Dr. Daniel Barrett had to say!
When asked if Khloe's lips look like they had work done, Dr. Katz, responded: 'No question about it, she has had a lot of filler injected.'
Dr. Barrett agreed, saying that 'It does appear that Khloe has augmented her lips with a filler!'
They then went into detail about the specific procedures she may have undergone, explaining it in professional terms.
But most importantly, were those pictures she posted an indication of the final result or were her lips just swollen and would settle in later on?
'I'd hope this is swollen because it looks like it is quite overdone. If you look at the cupid's bow, it is more pronounced now than in the before photo. And that is not a bad effect because as people age their cupid's bow flattens so we like to give it a bit more volume and to accentuate it a little. If her lips have temporary swelling then it'll go down, but if we see her again in a month or so and it looks the same then she has had it done to look like that,' Dr. Katz told the news outlet.