New Advances in Vaginal Rejuvenation that have the Kardashians talking! Dr. Katz explained them to HollywoodLife.com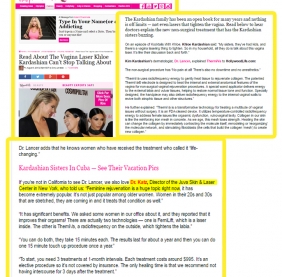 The Kardashian family has been an open book for many years and nothing is off limits — not even lasers that tighten the vagina. Read below to hear doctors explain the new non-surgical treatment that has the Kardashian sisters buzzing.
On an episode of Kocktails With Khloe, Khloe Kardashian said: "My sisters, they've had kids, and there's a vagina lasering thing to tighten. So in my household, all they do is talk about this vagina laser. It's like their discussion back and forth."
HollywoodLife.com spoke with Dr. Katz about FemiLift and Thermiva, the 2 new technologies in vaginal rejuvenation.