Dr. Katz is quoted in The New York Times article on tattoo removal its steps forward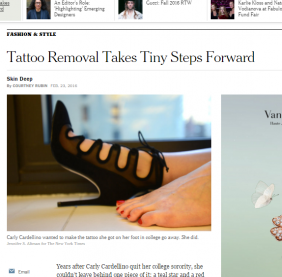 As with all cosmetic treatments, there is some element of marketing hype. Tattoo removal is a roughly $75-million-a-year business — mostly catering to young professionals who think tattoos are hindering their rise, mothers who decide the art no longer fits their image and tattoo enthusiasts who simply want to redecorate.
There is also a cross section of heartbreak and hopes dashed. Dr. Bruce Katz, a dermatologist in Manhattan...