Top 5 Controversies reviewed with Dr. Katz in Dermatology Times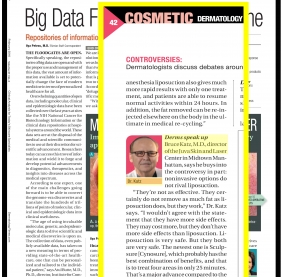 Top 5 controversies
Dermatologists speak up about fillers, fat, neurotoxins, and techniques.
There are five controversies rattling today's dermatology community, causing some to think twice about commonly used products, services and procedures. the 2nd controversy mentioned in the article was the Big Fat Debate on the comparison of non-invasive techonologies for fat reduction with liposuction. See Dr. Katz response when you zoom into the image.
/sites/www.juvaskin.com/files/backup_migrate/Dermatology%20Times%20Feb%202016%20Issue.pdf