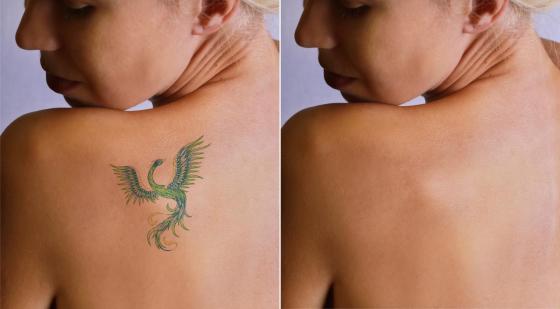 If you are like hundreds of thousands of Americans, you may have a tattoo somewhere on your body that you regret having now. Then, the question arises, "how do I get rid of this tattoo?" Fortunately for you, our dermatologist, Dr. Bruce Katz, has a simple and non-invasive procedure that allows you to be free from a tattoo that you now regret.
Unfortunately, depending upon the color of your skin or the color and depth of the pigment used in your tattoos, you may have experienced difficulties having them removed with laser tattoo treatments in the past. At JUVA Skin & Laser Center, we utilize the Picosure laser. The Picosure laser offers such advanced technology that it can easily and effectively remove nearly any pigment color from nearly any skin type or skin color. One of the most difficult colors to remove is often a dark red, but the Picosure laser gives our dermatologists the ability to remove even red ink from your tattoos.
How Does the Picosure Laser Remove Tattoo Ink?
dermatologist treats your tattoo with laser energy, the pigmentation in the tattoo absorbs the heat from the laser more than your surrounding tissues. This absorption causes the ink and coloring to disappear and naturally be removed from your body, leaving you with a tattoo-free appearance.
Schedule Your Tattoo Removal Procedure Today
When you're ready to discuss your laser tattoo procedure, please contact our dermatologists today. Dr. Katz has decades of experience not only in providing procedures, but in testing and helping to get them approved with the FDA. He will help you to determine how many sessions will be required in order to thoroughly remove your tattoo. For more information on laser tattoo removal, please contact us today by calling (212) 688-5882 We proudly serve patients in New York City, Manhattan, and worldwide.